Tennis - Instructors
USTPA Miracle Hill Head Professional
Mike Saniuk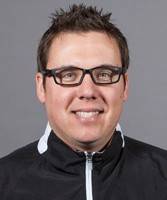 Mike became the Head Tennis Professional at Miracle Hill in 2014 brining with him a great love of the game and a desire to teach the sport to all skill levels.
A 2006 graduate of Nebraska-Kearney, he was a four-year letterwinner for the Lopers where he earned all-conference honorable mention honors and helped UNK to two NCAA II Sweet 16 appearances.
Saniuk has several years of teaching and coaching experience as he conducted and worked at numerous clinics and camps throughout Nebraska and Minnesota. He also is experienced in teaching private and group lessons in Omaha.
A Bellevue, Neb. native, Saniuk graduated from Omaha Gross Catholic High School where he helped lead the Cougars to the 2000 Nebraska state Class B title.

Saniuk is married to Marcy Pennel and they have one son, Dex.
Sheryl Vaughn-Assistant Professional
4.5 player
USPTA certified since 2004
High School Coaching since 2001-2003 Duchesne academy Skutt Catholic High School Coach Boys/Girls 2004-current
12 State team Championships
Multiple Individual State titles
Head Tennis Pro Skyline Country Club
Assistant instructor Happy Hollow Country Club, The Tennis Club, Miracle Hill CTC instructor
Racquet Stringer Umpire Tennis verifier
Brett Zarontonello-Assistant Professional
Individual tennis success
14 and under national runner up
All conference honorable mention RMAC
NCAA Academic All American
4.5 USTA Nationals 2011

Teaching success
USPTA Elite Professional 10+ yrs
Director of Tennis At Miracle Hill
Director of Tennis and Recreation at Madden's Resort - 5 Star Resort
5 USTA Gold Balls
5 State qualifiers
2 State champions
4.0 USTA women's coach

Coaching success
10 state championships (2 in boys, 8 in girls)
10 yrs of college coaching (5 in Division 1)
4 All Conference Players
20 ITA Academic Team Members
1 Academic All Conference Member



Teaching is defined as who you have taught individually in lesson format.

Coaching would be team success.