Tennis - Instructors
USTPA Miracle Hill Head Professional
Mike Saniuk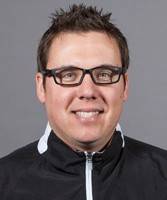 Mike became the Head Tennis Professional at Miracle Hill in 2014 brining with him a great love of the game and a desire to teach the sport to all skill levels.
A 2006 graduate of Nebraska-Kearney, he was a four-year letterwinner for the Lopers where he earned all-conference honorable mention honors and helped UNK to two NCAA II Sweet 16 appearances.
Saniuk has several years of teaching and coaching experience as he conducted and worked at numerous clinics and camps throughout Nebraska and Minnesota. He also is experienced in teaching private and group lessons in Omaha.
A Bellevue, Neb. native, Saniuk graduated from Omaha Gross Catholic High School where he helped lead the Cougars to the 2000 Nebraska state Class B title.

Saniuk is married to Marcy Pennel and they have one son, Dex.
Tyson Thomas-Assistant Professional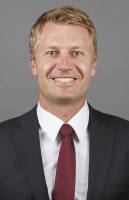 Tyson joined the Miracle Hill teaching staff in 2014 along with being named head coach of the Omaha Mavericks Men's tennis program.
Thomas served as an assistant coach under Mike Saniuk during the 2013-14 season. That season, the Mavericks had a 6-18 overall record and a 1-4 mark in the Summit League.
After graduating from UNK in 2005, Thomas coached at the Stanford Nike Summer Camp. He then began working for Peter Burwash International Tennis Management Company, where he earned the coveted "Rookie of the Year" award. While a member of PBI, Thomas coached at and managed programs in Palm Springs and Carmel, Calif.; St. John, USVI; Seoul, South Korea; Beijing, China; Peninsula Papagayo, Costa Rica and Abu Dhabi and Dubai, UAE. In 2008 Thomas coached a student to win the Girls U18 Abu Dhabi ITF Junior Championship.
As a member of the Peace Corps, Thomas then moved to Mali, West Africa from 2009 to 2011, where he co-directed the creation of the Malian National Junior Tennis Center. While there he trained Mali's top male and female junior athletes and accompanied them to International tournaments in Accra, Ghana and in Dakar and Winneba, Senegal. In his second year Thomas coached Malian Seydou Diallo to win the boys U18 category at the ITF West African Junior Championships.
Ryan Ray-Assistant Professional
Ray comes to Miracle Hills with 18 years of NCAA Division I college coaching experience. In his 13 years as a head coach he won the 2005 Men's Missouri Valley Conference Regular Season Championship while earning conference coach of the year honors while the head coach at Indiana State University. During the past 11 years, Ray was the head women's coach at Eastern Michigan University. In that time period, the Eagles received a highest national ranking of #74, he coached the first NCAA Singles Participant in school history in Vanessa Frankowski, who garnered a #45 national singles ranking in college tennis. Also, at EMU, Ray coached the program to the 2014 Mid-American Conference Tournament Final, coached two MAC Players of the Year, and a number of singles players and doubles teams that competed at the All-American National Championships. In all as a collegiate head coach, Ray has coached six players that had rankings in the top 250 in the world in juniors. As an assistant coach, Ray had stints at Oklahoma 1998-2000, Northern Iowa 2001, and St. Louis University 2001-2003.
At the club level Ray has experience teaching at Lifetime Fitness in St. Louis Park, Minnesota in 2005-2006, Creve Couer Racquet Club in St. Louis, Missouri in 2002-2003, Happy Hollow in Omaha in summers of 1997 and 1999, and The Champions Club in Omaha in summer of 1995.
Ray, a Nebraska native graduated from Blair High School and competed collegiately at the University of Nebraska at Kearney from 1993-1998. He has Bachelor of Science Degrees in Business Administration and Sports Administration from UNK, and also, a Master's Degree in Sports Management from the University of Oklahoma.
Contact for lessons: ryanraytennis@gmail.com
Sheryl Vaughn-Assistant Professional
4.5 player
USPTA certified since 2004
High School Coaching since 2001-2003 Duchesne academy Skutt Catholic High School Coach Boys/Girls 2004-current
12 State team Championships
Multiple Individual State titles
Head Tennis Pro Skyline Country Club
Assistant instructor Happy Hollow Country Club, The Tennis Club, Miracle Hill CTC instructor
Racquet Stringer Umpire Tennis verifier
Brett Zarontonello-Assistant Professional
Individual tennis success
14 and under national runner up
All conference honorable mention RMAC
NCAA Academic All American
4.5 USTA Nationals 2011

Teaching success
USPTA Elite Professional 10+ yrs
Director of Tennis At Miracle Hill
Director of Tennis and Recreation at Madden's Resort - 5 Star Resort
5 USTA Gold Balls
5 State qualifiers
2 State champions
4.0 USTA women's coach

Coaching success
10 state championships (2 in boys, 8 in girls)
10 yrs of college coaching (5 in Division 1)
4 All Conference Players
20 ITA Academic Team Members
1 Academic All Conference Member



Teaching is defined as who you have taught individually in lesson format.

Coaching would be team success.


Erik Anderson-Assistant Professional
A 2015 graduate from University of Nebraska at Omaha. Completed senior season of tennis as an MBA student in 2016.
As a senior helped UNO Men's Tennis Team reach first appearance at the Summit League Championships.
Coaching experience for several years all over the Omaha area. Currently helps volunteer assistant coach for the UNO Men's Tennis Team.
Before UNO
From Bellevue, NE and graduated from Bellevue West High School playing all four years at number 1 singles. Best result placing fourth at state his senior year.